This month The Selective Collective read A Little Something Different by Sandy Hall.
The creative writing teacher, the delivery guy, the local Starbucks baristas, his best friend, her roommate, and the squirrel in the park all have one thing in common—they believe that Gabe and Lea should get together. Lea and Gabe are in the same creative writing class. They get the same pop culture references, order the same Chinese food, and hang out in the same places. Unfortunately, Lea is reserved, Gabe has issues, and despite their initial mutual crush, it looks like they are never going to work things out.  But somehow even when nothing is going on, somethingis happening between them, and everyone can see it. Their creative writing teacher pushes them together. The baristas at Starbucks watch their relationship like a TV show. Their bus driver tells his wife about them. The waitress at the diner automatically seats them together. Even the squirrel who lives on the college green believes in their relationship.
Surely Gabe and Lea will figure out that they are meant to be together…. From Goodreads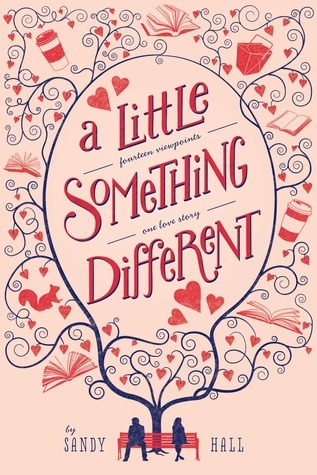 We all had that one professor that was a little… let's just say quirky. They were good at teaching but there was something sort of off about them. Or maybe they were just a little on the odd side. For me, it was my college accounting professor. She was great and all, but did a few things throughout the semester that I swear I remember better than accrual whatevers. She was a skinny blonde lady who had a passion for rap music. One day she declared it Tootsie Roll day and danced in front of our 200+ person class to, you guessed it, Tootsee Roll by 69 Boyz. We got to pass around a bucket of Tootsie Rolls too. Another day she played for us to Nelly's "Shake Your Tail Feather" and danced around with this long pink feather. There was no candy that day.
While there are MANY characters in A Little Something Different, the professor in it reminded me of my accounting professor and it got me thinking about all the good but sometimes different teachers in YA literature.
Haymitch Abernathy, The Hunger Games

Say what you will about his drunkenness, Haymitch knows where it's at when it comes to teaching and guiding Katniss and Peeta. Nor is he afraid to say the things they need to hear.
Not really a teacher… but I imagine he probably taught Maggie quite a good bit. And being a spy probably means he had some unconventional methods.
Grandmere, The Princess Diaries
This is probably the crazy teacher to end all crazy teachers. Seriously, her methods for teaching Mia to be a princess bordered on insane and downright scary, but in the end we get…
Miss Peregrine, Miss Peregrine's Home for Peculiar Children
She turns into a bird. A BIRD, people!
The entire Hogwart's staff
I feel like each teacher had their own over the top quirky behavior that in any other setting would be horrendously wrong. But those kids learned wizardry and I feel confident that when my kids attend Hogwart's they will get a stellar education regardless.
Check out the other members of the Selective Collective and see what fun things they have going on!