On the Fence by Kasie West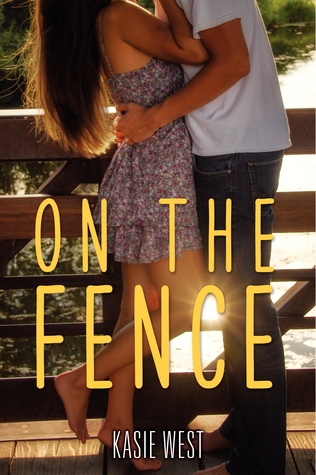 The Skinny: Charlie Reynolds can outrun, outscore, and outwit every boy she knows. But when it comes to being a girl, Charlie doesn't know the first thing about anything. So when she starts working at a chichi boutique to pay off a speeding ticket, she finds herself in a strange new world. To cope with the stress of her new reality, Charlie takes to spending nights chatting with her neighbor Braden through the fence between their yards. As she grows to depend on their nightly Fence Chats, she realizes she's got a bigger problem than speeding tickets-she's falling for Braden. She knows what it means to go for the win, but if spilling her secret means losing him for good, the stakes just got too high – From Goodreads
BFF?: Charlie was completely likeable… but I had a hard time really connecting with her. I've always had a hard time connecting with girls who are so anti-feminine. And not girls who like sports or are "one of the guys" or don't wear makeup… I'm talking about the kinds of girls who are like "yeah, I used to set my Barbies on fire." No, Charlie wasn't REALLY like that, but she kind of had this whole anti-girl vibe. I liked that she eventually learned how to be "girly" while still being herself, but it took me a long time to warm up to her. I might have been history class acquaintances with her in high school, but I highly doubt we'd talk more outside of class.
Readability: This one was really quick read, which I liked. There was some good depth though, which made it worth it. The writing was easy to get into and Charlie's voice was genuine.
Crush Level: 5
Okay, Braden was such a sweet guy. He really stepped into his roles as a big brother, a confidant, a best friend, and eventually a boyfriend. I loved how devoted he was not only to Charlie but to her family as well. It was very endearing to see someone as good and wholesome as he was. That being said… I don't think I'd have a crush on him other than a "hey, he's cute!" moment before he totally got friendzoned. It was hard to develop any sort of crush on someone I saw as a brotherly guy friend who would probably tell fart jokes in front of me. Actually… if he did that he'd probably not be friendzoned so much as no man's land zoned.
Bonus Points:
First Jobs

First jobs suck, yo. I don't know anyone who raves about their first jobs. Mine was at a department store and I haaaaated it. I had to stand all day, I had to dress up, I had a mean boss… working in retail has never been pleasant for me. It's like the food service… people* are asshats.
*Except for you. You're awesome.
Yearbook Quote: None! ARC!

Superlatives: Most likely to change your mind about doing your makeup